Avete un minuscolo avanzo di lana gialla e marrone e ad uncinetto arrivate si e no alla maglia alta? Ci vogliono 15 minuti a confezionare queste toppe da leone che, secondo me, sarebbero perfette sul grembiule dell'asilo di vostro figlio (dato che da maschio non si trova mai niente di carino e se non gli piace neanche il calcio allora davvero non troverete nulla!).Ma potete cucirle anche su una maglia o copertina!
Occorrente per le toppe leone:
Uncinetto 4
Lana gialla e marrone
Un pó' di lana nera sottile ed un ago da lana
Forbici
Un divano comodo (imprescindibile)
Legenda:
cat: catenella
mmb: mezza maglia bassa
mb: maglia bassa
ma: maglia alta
aum: aumento

Procedimento:
Con la lana gialla:
Lavorate 5 mb in un anello magico.
1° giro: 1 cat e 1 aum in ogni mb, chiudere il giro con una mmb (tot. 10 mb)
2° giro: 1 cat e 1 aum in ogni mb, chiudere il giro con una mmb (tot. 20 mb)
3° giro: 1 cat e *1 aum e 1 mb* ripetere da *a* fino alla fine, chiudere il giro con una mmb (tot. 30 mb)
Cambiare colore da giallo a marrone:
Dove avete cambiato il filo fate 1 cat e lavorate (nella stessa mb) *2 ma, 1 cat, 2ma, chiudere con una mmb nella mb successiva a quella in cui state lavorando, saltate la mb ancora successiva*. Riprendete da * a * fino in fondo, ottenendo così una serie di archetti che saranno la criniera del leone.chiudete con una mmb.
Decorazione:
Con il filo di lana nero (se è troppo spesso, apriene la trama a sfilate uno o due capi), ricamate il muso del leone: vi consiglio di partire dal triangolo del naso, che va piazzato centralmente, sarà più facile eseguire un disegno proporzionato!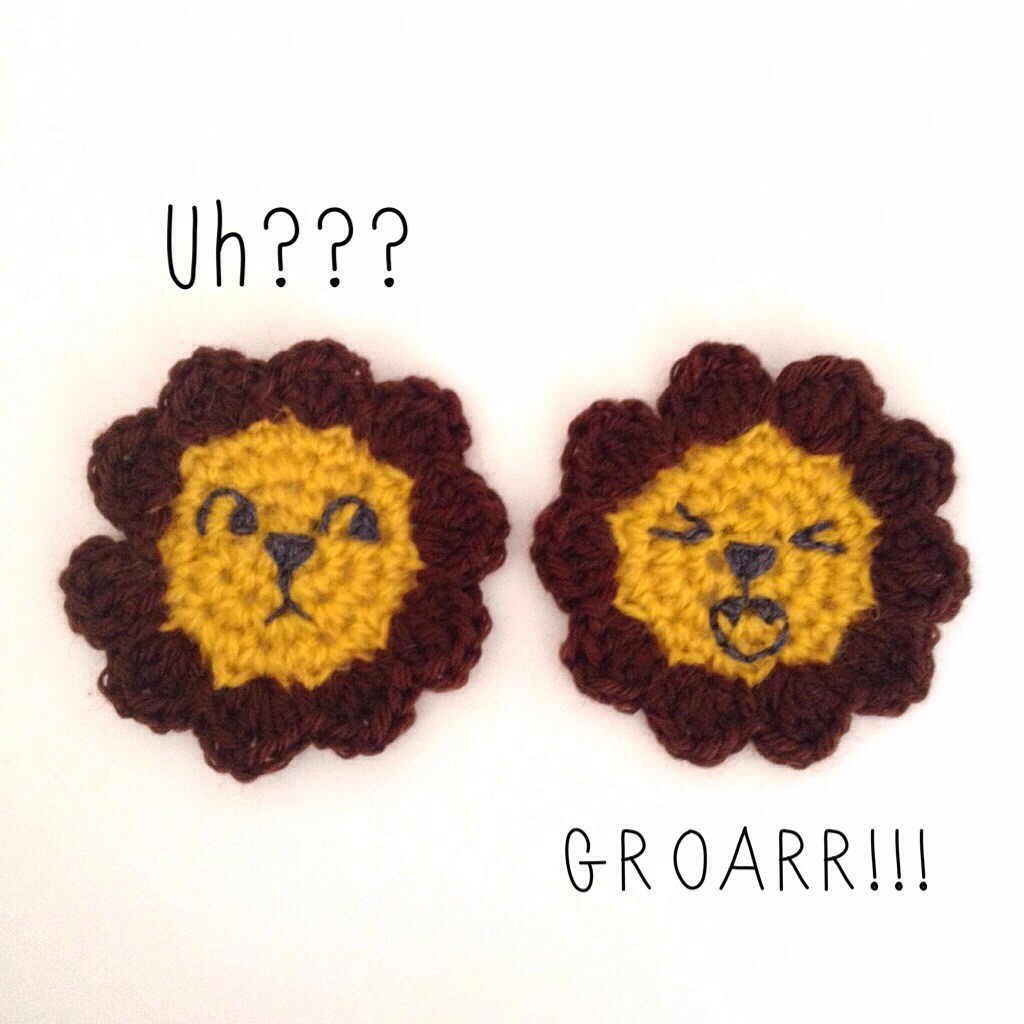 ENG:
Do you have a tiny surplus of yellow and brown yarn and very basic crochet skills? It takes 15 minutes to do these lion patches and in my opinion, they would be a perfect decoration for your boy school's smock (if you are a mum to a boy you rarely find anything nice, even worst if he doesn't like football!).
What you need:
Crochet hook size 4
Yellow and brown yarn scraps
A little bit of thin black wool and an embroidery needle
Scissors
A comfortable couch (unmissable)
Legenda (US Chart):
ch: chain
st: stitch
ss: slip stitch
sc: simple crochet
dc: double crochet
inc: increase

Procedure:
With the yellow wool:
Work 5 sc in a magic ring.
1st round: ch 1, 1 inc in each st, close with a ss (tot. 10 st)
2st round: ch 1, 1 inc in each st, close with a ss (tot. 20 st)
3rd round: ch 1 and work * 1 inc and 1 sc * repeat from * to * until the end, close with a ss (tot. 30 st)
Change color from yellow to brown:
In the st where you've attached the new color of yarn:ch 1 and work *2 dc, ch1, 2dc, close with a ss in next st, skip the next st *. Repeat from * to * until the end, making a series of little arches that will be the lion's mane.Close with a ss.
Decoration:
With the black thread (if it's too thick, use only one or two ends), embroidery the lion's face: I recommend starting from the nose's triangle, which has to be centrally placed, would be easier to accomplish a balanced design!
Comments
comments