Voi lo sapete che io ho la casa piena di maglioni zombie sezionati e a brandelli, vero?
Questa piccola borsina, da usare come porta cellulare, ma anche porta uncinetti o porta biglietti…tutto quel che avete bisogno di avere a portata di mano, è fatta con pochi ritagli proprio da quegli zombie maglioni, una manica, per la precisione! P.S. Questo tutorial è uscito in anteprima sul numero del 30/9/14 di Donna Moderna!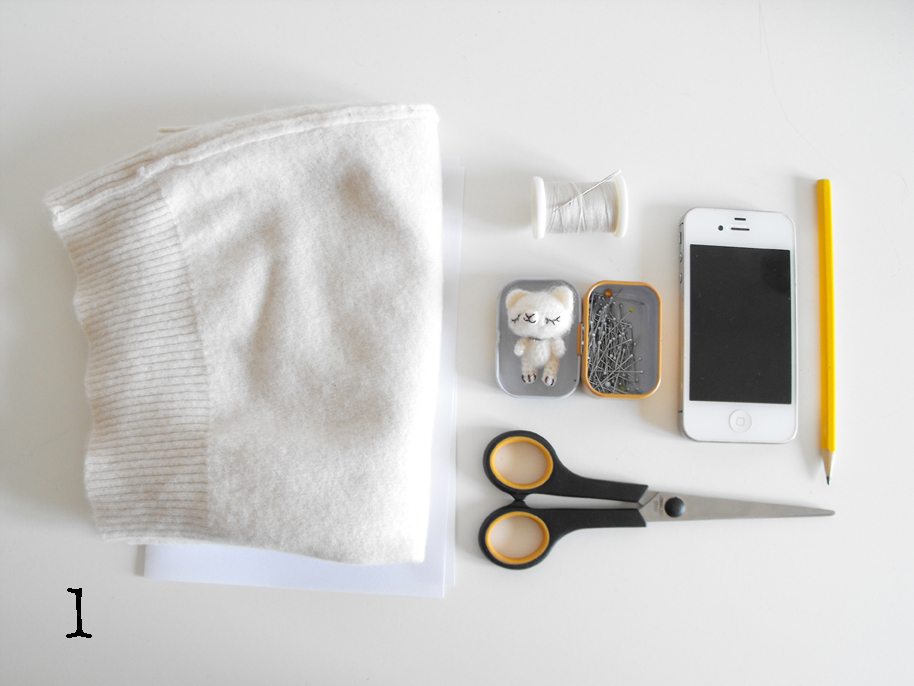 1-Di cosa hai bisogno:
Un ritaglio di maglia (con la costina del fondo, una manica andrà benissimo)
Un foglio di carta
Aghi e spilli
Forbici da tessuto
Filo in tinta con la maglia
Una matita
Un cordino o laccio
Il tuo cellulare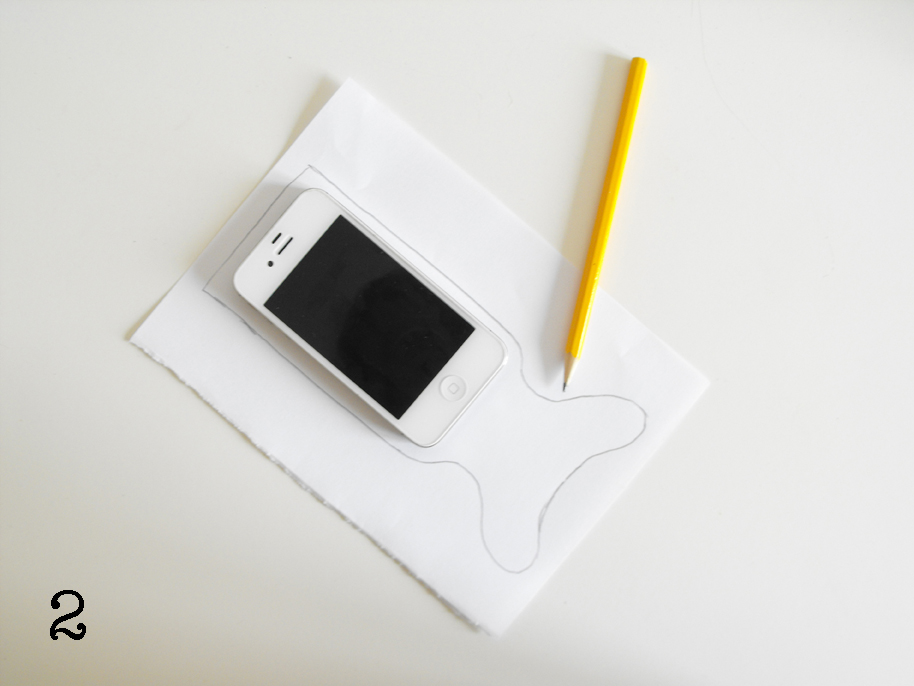 2-Con carta e matita, seguendo la linea del tuo telefono, traccia una sagoma a coda di pesce, lasciando circa un dito di abbondanza per la cucitura.
3-Ritaglia e posiziona la sagoma con gli spilli sul tessuto doppiato facendo coincidere l'imboccatura all'inizio del cannolè di costina.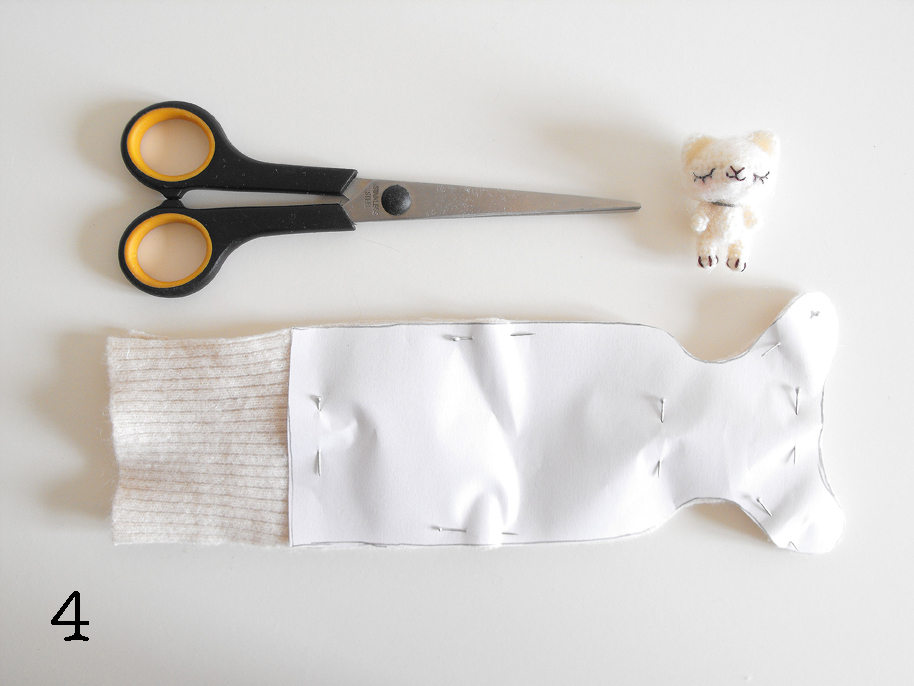 4-Taglia la doppia sagoma, lasciando intero il cannolè alla fine.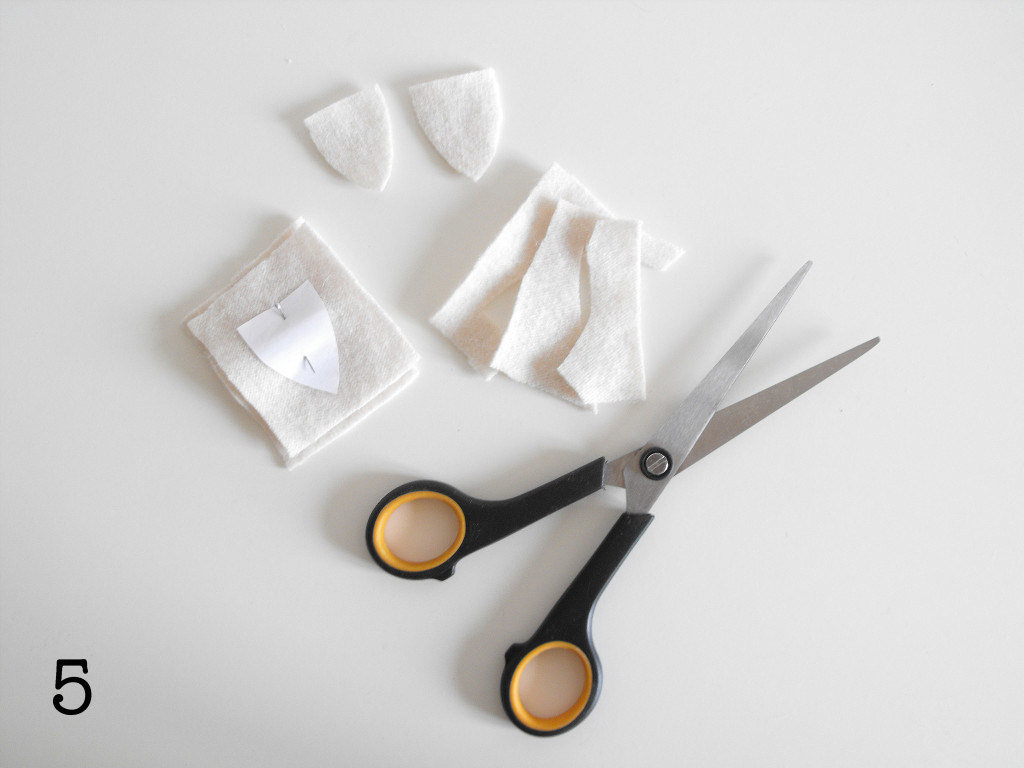 5- Taglia nella carta una sagoma a squama (il lato dritto deve misurare 1/3 della larghezza della tua coda di pesce)
e ritaglia un po' di squame dai ritagli di maglia avanzati.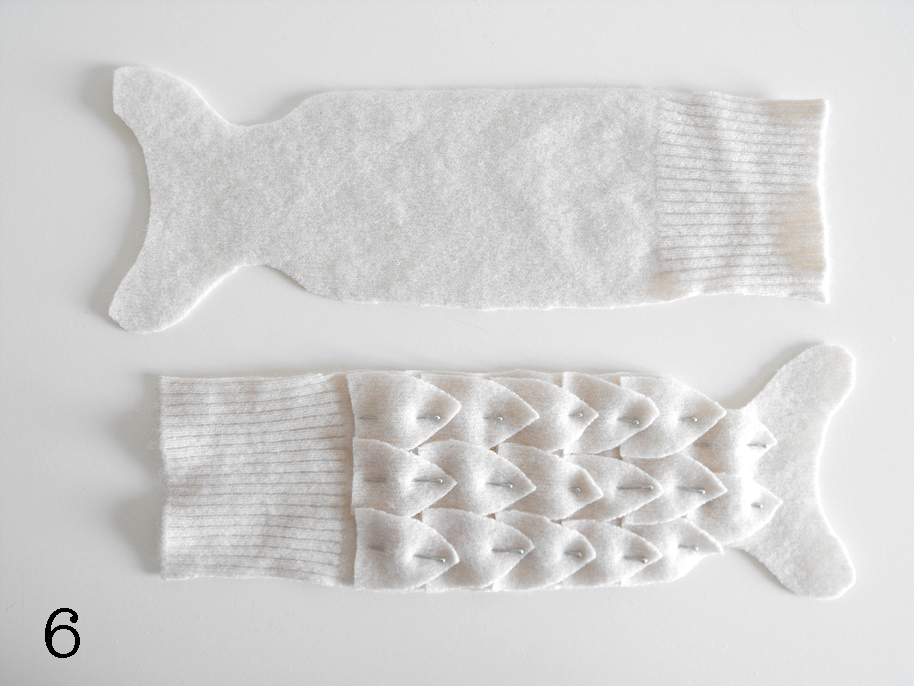 6-Posiziona le squame con gli spilli sulla sagoma frontale della coda di pesce come in foto e cucile.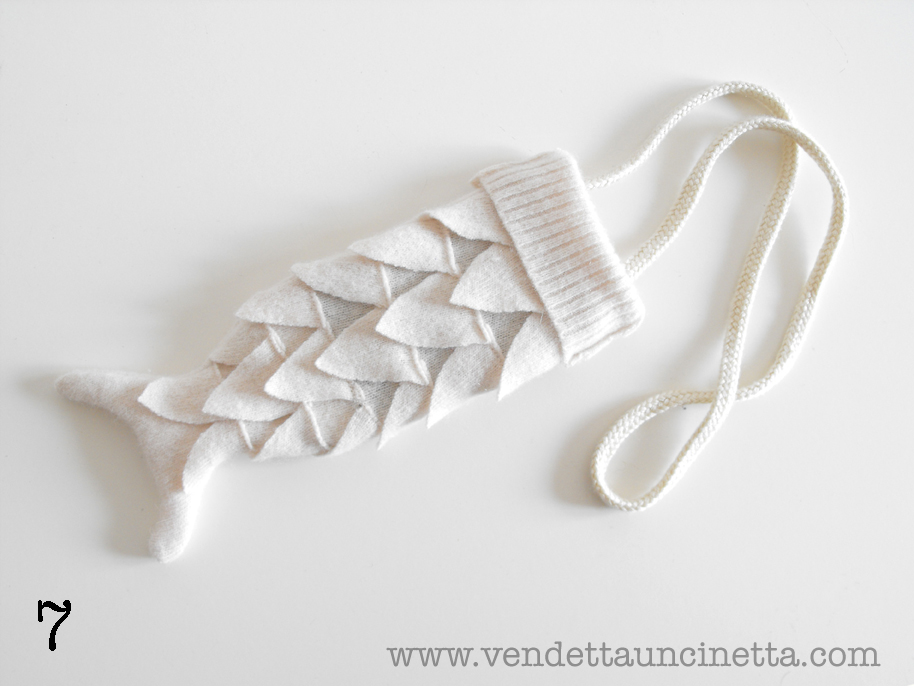 7-Sovrapponi le due sagome (le due facciate "frontali" una contro l'altra) e cuci tutto intorno, lasciando aperta l'imboccatura. Rivolta la coda di pesce ed aggiungi un cordino fissandolo con pochi punti all'interno dell'imboccatura!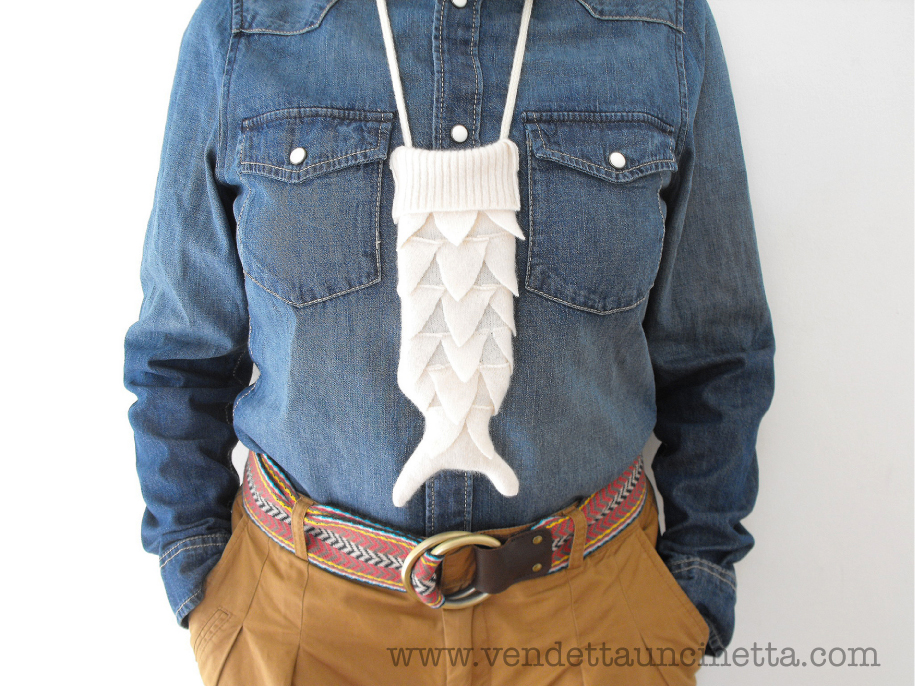 ///ENGLISH:///
You already know it, I have a house full of dissected zombie sweaters, right?
This "Fishtail" little bag, to be used as a cell phone holder, but alsoto carry crochet hooks or else, it is made with just a few scraps of those zombie sweaters, a sleeve, exactly!
1-What you will need:
A cutout swatter (with the bottom rib, the sleeve will be ok)
A sheet of paper
Needles and pins
Fabric scissors
Matching sewing thread
A pencil
A rope, lace or ribbon
Your mobile phone
2 – With your pencil and paper, following your phone's silhouette, trace a fish tail shape, leaving about an inch of abundance for sewing.
3 – Place the template on the doubled fabric with pins, as shown in the picture, at the beginning of the rib.
4 – Cut the fishtail shape leaving the bottom rib.
5- Cut out some little 'scales' from your sweater's scraps, the straight side should measure 1/3 of the total width of your fish's tail.
6-Place the scales with some pins on one of the two shapes, as in the picture, and sew them.
7-Overlap the two shapes (right sides must touch) and sew all around, leaving the opening free.Turn inside out and add a lace or a ribbon, securing it with a few stitches inside of the fishtail's opening! You are done!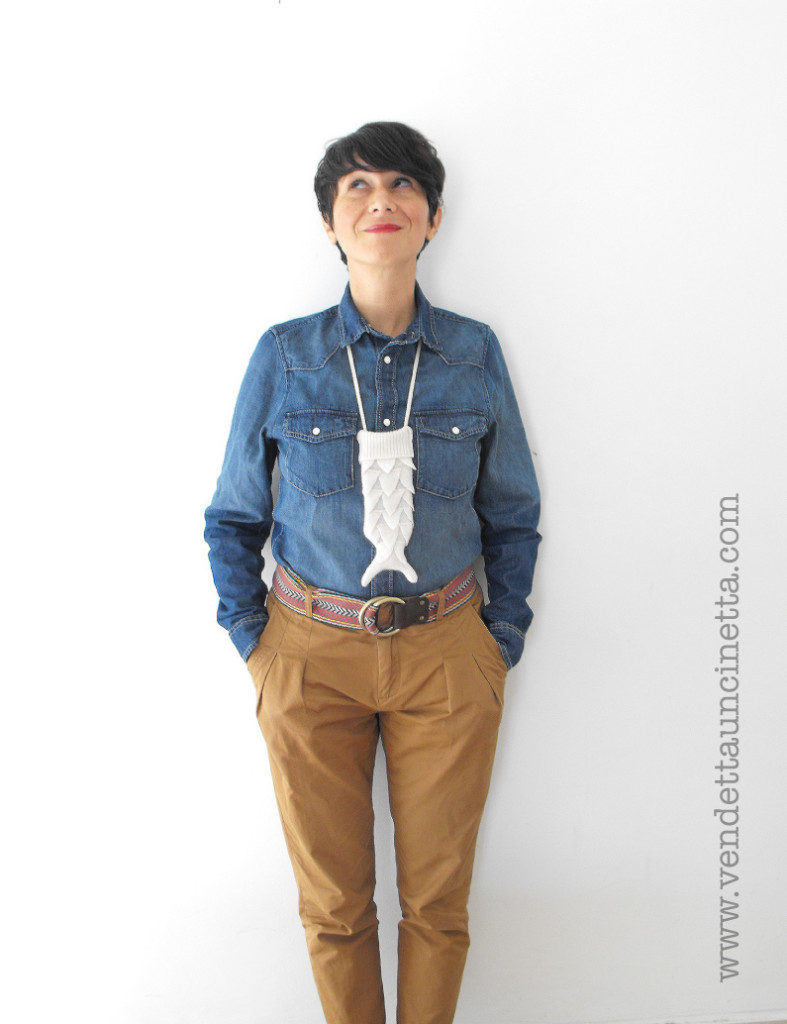 Comments
comments