Conoscete We Are Knitters? Tra i tanti bellissimi pattern sia a maglia che ad uncinetto, ho scelto il kit per farmi il Nolita Sweater: facilissimo (tutto a punto legaccio!), con un fit "Boxy" perfettamente contemporaneo. E poi oversize e caldissimo! Il kit comprende i ferri in faggio naturale , 5 gomitoli di The Wool, 100% lana Peruviana e il pattern (che è in italiano, ovviamente).
La mia sfida era quella di aggiungere però un particolare, qualcosa in più che fosse realizzato ad uncinetto, per comprendere maglia e crochet nello stesso pattern.
Ho scelto lo stesso colore della base ma un filato leggermente più sottile, The Petite Wool , che ho lavorato con uncinetto 7 e ho deciso di impreziosire il giromanica del Nolita, che per suo stile cade sopra il gomito, con un doppio giro di volant: consistenti, grafici, femminili ma che non perdessero forza assieme ad un maglione così importante.
Ho trasformato le balze, così ubique dalla scorsa estate su vestiti, top e camicie, in versione caldissima: aggiungendole ad un maglione che da basico diventa scenografico!
Ecco come le ho fatte.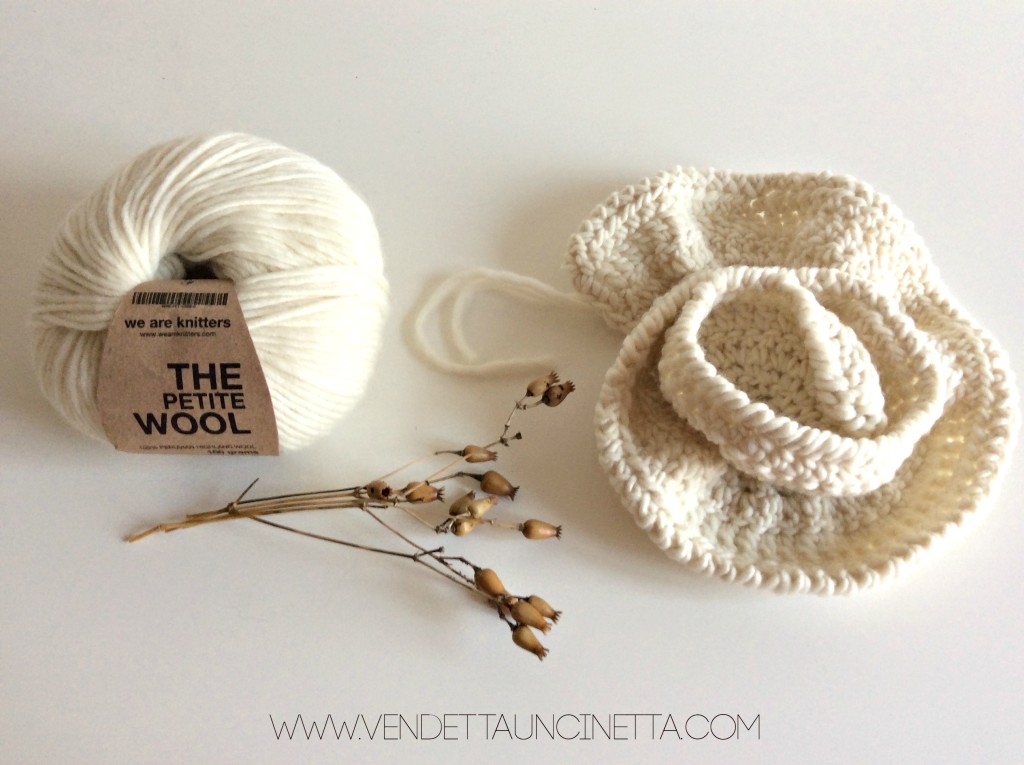 Occorrente:
Uncinetto: 6.5 o 7
Filato: "The Petite Wool" We Are Knitters
Il Nolita Sweater già realizzato
Ago da lana, forbici
Punti utilizzati:
cat – catenella
mma – mezza maglia alta
mb – maglia bassa
ma – maglia alta
pg – punto gambero
Procedimento:
1° giro: avvia 40 cat
2° giro: tutto mma
3° giro: *1 mb, 1 cat, 1 mb nella maglia successiva*. Ripeti per tutto il giro.
4° giro: *2 mb, 1 cat, 2 mb nelle 2 maglie successive*. Ripeti per tutto il giro.
5° giro: tutto ma
6° giro: tutto mma
7° giro: termina il lavoro con il punto gambero.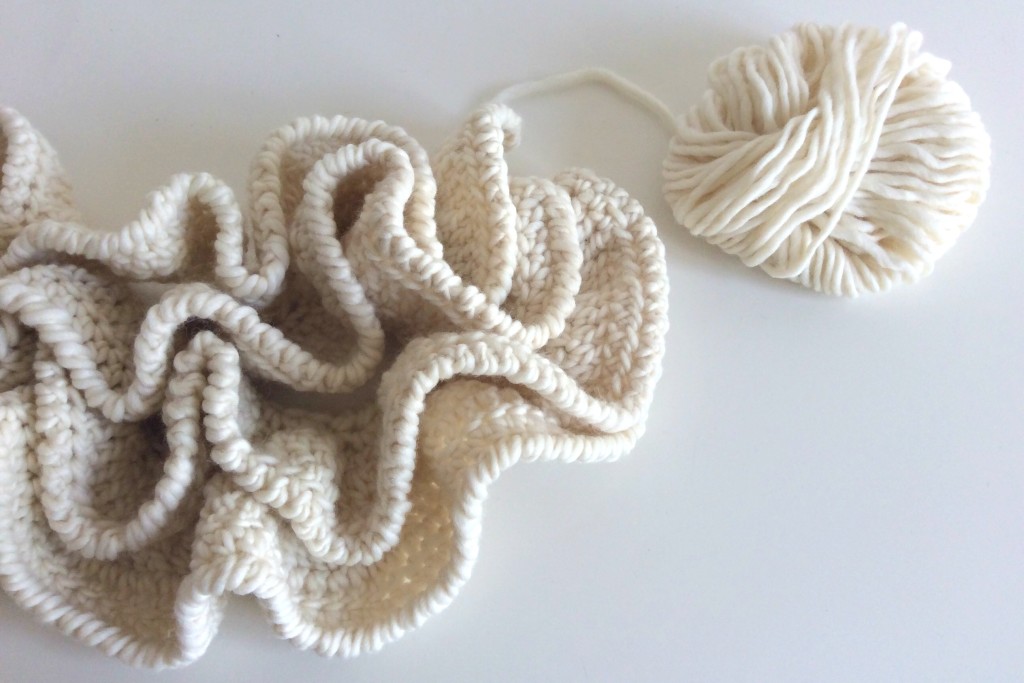 Ripeti per due volant, poi fai altri due volant più larghi facendo due giri di maglia alta anzichè solo uno (quando arrivi al 5° giro) prima di procedere con il giro di mma (avrai così 8 giri totali anzichè 7).
Applica i volant sul giromanica del tuo maglione Nolita lasciandoli aperti sotto la manica, cucendo prima la balza più stretta (quella da 7 giri) sul giromanica e poi quella più larga (da 8 giri) un po' più sotto. Ecco qui! Perfetto con un paio di pantaloni a vita alta!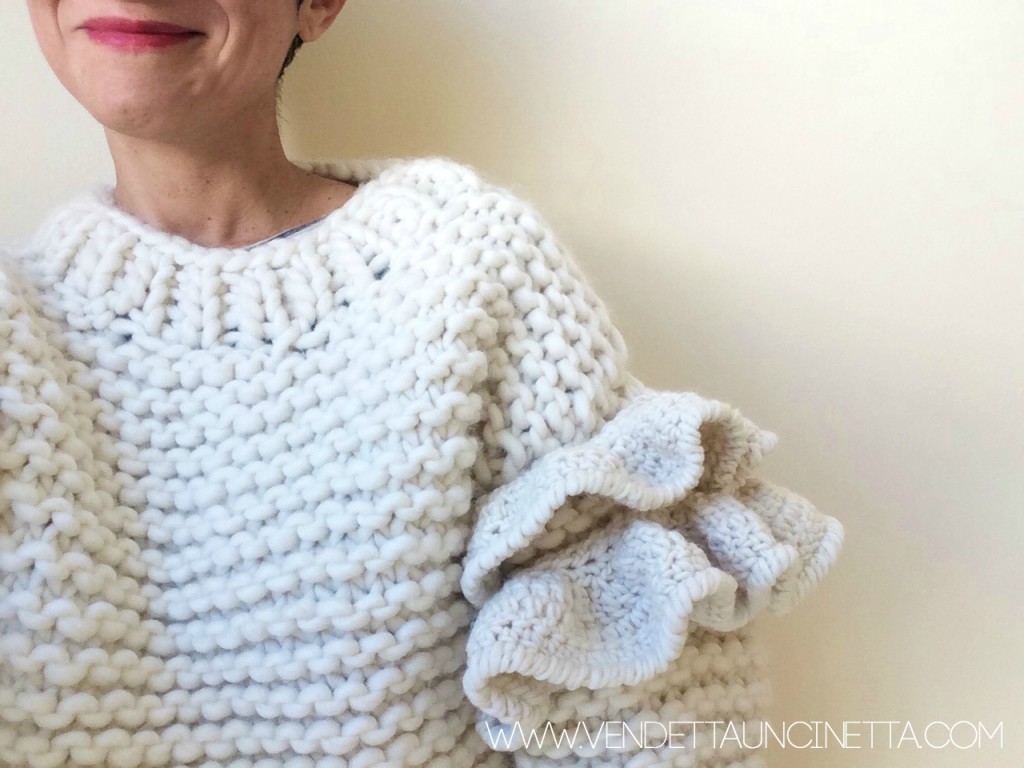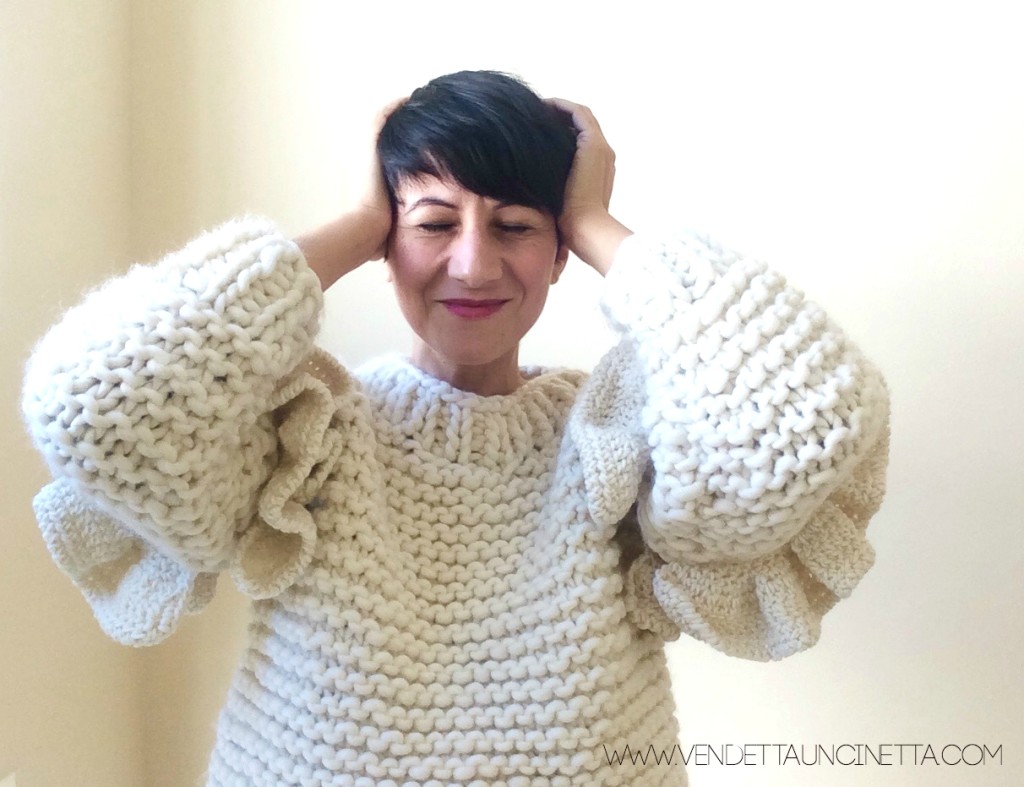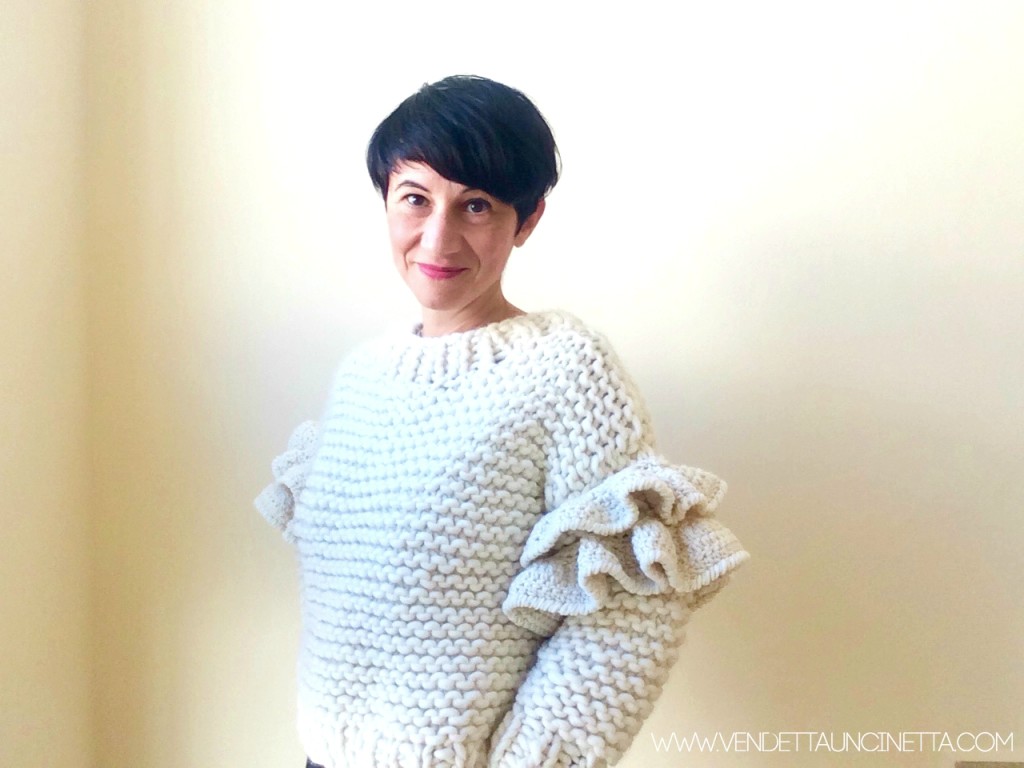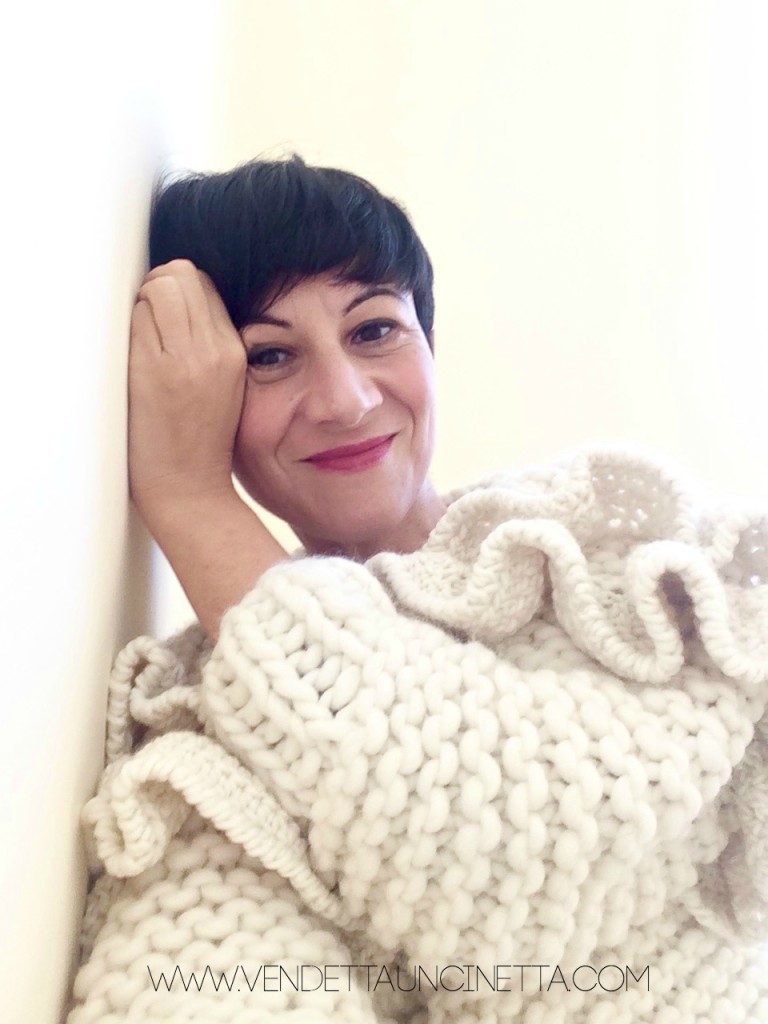 ▶︎ ENG:
Do you already know We Are Knitters? Through many fantastic patterns, I've choose the Nolita Sweater kit : easy, right for almost beginners, with a contemporary boxy fit. More it's beautifully oversized and cozy!The kit includes: natural wood knitting needles, 5 balls of The Wool , made from 100% Peruvian wool and the istructions. My challenge was to add, however, a special, something extra made by crochet, to have knitting and crochet in the same pattern.
I chose the same yarn color of the base but in a slightly thinner yarn, the Petite Wool , which I've worked with size 67 hook and then I decided to embellish Nolita Sweater's armholes, which are falling just above the elbow, with a double row of ruffles: consistent, graphic, feminine but at the same time not weak compared with such a bulky sweater. Ruffles were so ubiquitous since last summer on dresses, tops and shirts, now they have a winter version too, turning basic  into spectacular.
Here's how I made them!
What you need
Crochet Hook: size 6.5 or 7
Yarn: "The Petite Wool" by We Are Knitters
Nolita Sweater
Yarn needle, scissors
Stitches:
ch – chain
hdc  – half  double crochet
sc – single crochet
dc – double crochet
bs – back stitch
Method:
1st round: start  with 40 ch
2nd round: all hdc
3rd round: * 1 sc, ch 1, 1 sc in next st *. Repeat for all the round.
Lap 4: * 2 sc, ch 1, 2 sc in the next 2 st *. Repeat for all the round.
Lap 5: all dc
Lap 6: all hdc
Lap 7: End with one round of back stitch.
Repeat for two ruffles, then do two more frills but  wider making  two double crochet rounds instead of just one (when you get to round 5°) so you will have 8 total rounds instead of 7.
Apply the two ruffles on the armhole leaving them open under the sleeve, sewing first the narrowest ruffle (the 7 rounds one) right on the armholes and then the wider  one (8 rounds) a bit below. Here it is! Perfect to wear with a pair of high waist pants!
Comments
comments